The International Coach Training Program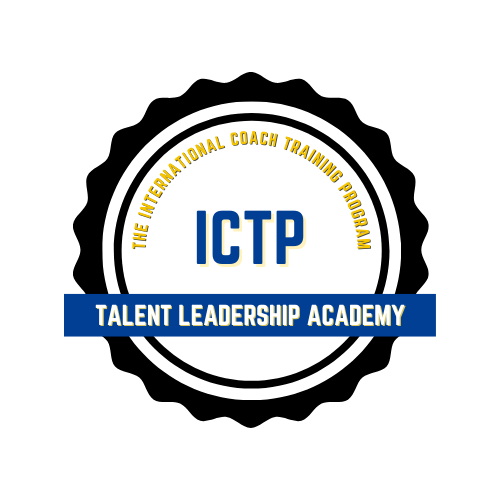 Become a Coach in 2022 
Become a Coach in 2022 is a Talent Leadership Academy "International Coach Training Program (ICTP)" that runs for a period of 6 – 12 months depending on your motivation to become a coach. The ICTP is available in accordance with the requirements of the International Coaching Federation (ICF) following the Accredited Coach Training Program (ACTP).
Through experiential online learning, and a live, virtual practicum guided by Dr. Jalal Mouti (ICF-PCC) an experienced mentor coach, you gain core life and organizational coaching competencies and skills. Learn to support the development and performance of individuals from all walks of life and from different backgrounds.
Gain worldwide recognized coaching competencies and skills that enable you to coach with confidence and be there for others to "Improve awareness, develop talent & boost potential!" 
This certificate program while in the process of being accredited by the ICF, is the first coaching program of its kind. You also won't find an immersive coach training program like this in the Mediterranean region.
The 2020-2021 program is offered 20% online with more options!
Credentials:

Certificate of Attendance

Coaching Foundation Certificate

An ICTP Coach

A Certified ICTP Coach

A Certified Advanced ICTP Coach

A Certified Professional ICTP Coach
Option (1) – 100% classroom with a cohort of 6-15 peers
Option (2) – 20% online 80% classroom with a cohort of 6-15 peers
Evenings: 2 hours per session (2 sessions per week)
Weekends: 4 hours per session (1 session per week)
*More details concerning the days on the (ICTP Info Form)
24 – 125 Coach Training Hours
100 – 500 Logged Coaching Hours (Facilitation)
10 – 18 hours of one-on-one and group mentor coaching 
Application process toward an ICF (ACC credentials)
The program handbook provides detailed information on the curriculum, courses, benefits, coaches and instructors, and Coaching @ Talent Leadership Academy, as well as important policies and admission requirements.
Programs Start Dates:
Coach Level 1 – (October 2021)
Personal Development Courses: January 2022
Professional Development Courses: January 2022
Application Deadlines:
Coach Level 1 – 

(October 2021)